Request a FREE inspection today and get instant access to our pest control guide and a coupon worth up to $50!

Bug Busters Pest Control Service
Bug Busters Pest Control is a family-owned company based in Farmville that provides pest control solutions for all of south-side Virginia. We have clients from Roanoke to Farmville to Hampton Roads and everywhere in between, and are rapidly becoming one of the largest family-owned pest control companies in
the state. The reason is simple--at Bug Busters Pest Control, we treat our customers as an extension of our own family, and deliver superior service in a timely manner at rates that work with YOUR budget.
The Bug Buster Guarantee
At Bug Busters Pest Control Service, we are proud to offer a 100% satisfaction guarantee on all services we provide. Simply put, that means that we will keep working until you're satisfied, no matter how long it takes. Our highly trained, Virginia state-certified exterminators know how to find the pests and get rid of them for good. Bug Busters Pest Control uses products and methods that are safe for your family and friendly to the environment as well, so you won't have to worry about harmful chemicals getting into your home.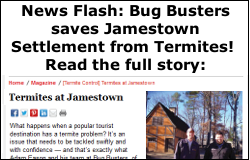 We know that speed is vital in treating a pest infestation, which is why we offer a 24-hr response time to any pest emergencies and same-day service when you call before 12 pm. If you're a new Bug Busters customer (either in Farmville or elsewhere) or a returning customer with a new problem, we'll start off by doing a free inspection of your property to determine the nature of your pest problem. We'll then work with you to develop a plan to treat the infestation and prevent the problem from happening again. Bug Busters Pest Control treatment and prevention plans are customized for each specific situation to ensure that you don't pay one penny more than necessary, while still getting the job done right.
Bug Busters Services
In addition to commercial and residential pest control services, Bug Busters also provides home improvement services and wildlife control services. Our home improvement services include:

Deck cleaning and sealing
Power Washing
Chimney Capping
Gutter Cleaning
Ventilation and Moisture Barrier Service
These services are not only important duties of a responsible homeowner, they are also great ways of preventing pest and wildlife control problems. However, just in case you do encounter the occasional critter, we also offer wildlife management services to help you deal with nuisance animals like skunks, squirrels, snakes, and racoons.

No matter what your pest issue, Bug Busters Pest Control has the resources and experience to deal with it quickly and effectively. Give us a call today and let us start solving your problems and giving you, your family, and your business the peace of mind and security you deserve.

Locations
Bug Busters Pest Control is proud to provide service to the following locations: Farmville pest control, Midlothian VA pest control, Lynchburg pest control, Roanoke pest control, Richmond pest control, Hampton Roads area pest control, and all of southside Virginia as well.
| | | |
| --- | --- | --- |
| 1400 West Third St. | 16450 Court St. Suite 102 | 4282 Old River Trail |
| Farmville, VA 23901 | Amelia, VA 23002 | Powhatan, VA 23139 |
| Office Phone: (434)392-7814 | Office Phone: (804)561-2800 | Office Phone: |